Have you seen all the strangest musical instrument in the world? It is great to know that there is actually a gallery showing all those odd music instruments.
For example, look at this Giant Tuba, was made in the early 20th century by Besson, London. The Giant Tuba has over 34 feet of tubing, weighs 112 pounds and nearly 8 feet tall. Can you blow it? Practice until your hair become white, maybe you will make a sound from it.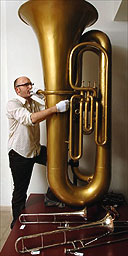 Eager to see more instrument like this? Visit OddMusic Gallery.
Technorati Tags: giant tuba, odd music